Discovering Reality: Poor in Spirit
"Are you not thirsty?" said the Lion.

"I'm dying of thirst," said Jill.

"Then drink," said the Lion.

"May I could I would you mind going away while I do?" said Jill.

The Lion answered this only by a look and a very low growl. And as Jill gazed at its motionless bulk, she realized that she might as well have asked the whole mountain to move aside for her convenience.

The delicious rippling noise of the stream was driving her nearly frantic.

"Will you promise not to do anything to me if I do come?" said Jill.

"I make no promise," said the Lion.

Jill was so thirsty now, that without noticing it, she had come a step nearer.

"Do you eat girls?" she said.

"I have swallowed up girls and boys, women and men, kings and emperors, cities and realms," said the Lion. It didn't say this as if it were boasting, nor as if it were sorry, nor as if it were angry. It just said it.

"I daren't come and drink," said Jill.

"Then you will die of thirst," said the Lion.

"Oh dear!" said Jill, coming another step nearer. "I suppose I must go and look for another stream."

"There is no other stream," said the Lion.

The Silver Chair by C.S. Lewis
T
he beatitudes of Jesus taught in the 5th chapter of Matthew are short statements that have a profound depth of meaning and significance to those who desire to grow in Christ. They are paradoxical. It seems that most spiritual truths are that way; they contradict the wisdom of this world, but they are nonetheless true. It appears that the eight beatitudes proceed from foundational attitudes that are necessary for beginning and maintaining spiritual growth to a moral and spiritual maturity in which there is an increasing Christ-likeness.
Changing sides
Imagine a vast army encamped around a small walled city. The tents in neat rows stretch on in every direction beyond the horizon. There are massive siege towers, catapults that hurl large stones or flaming missiles, giant crossbows on wheels, and powerful battering rams. The army is well-motivated by its desire to obliterate the city – they despise the inhabitants and everything they value.
Assault follows assault, and though the siege goes on for years and years, the gates hold up to the battering, and no breach is made in the walls. You are one of those soldiers, but unlike the majority of your comrades, you question the wisdom of this continuing offensive. You also become curious about what lies within the city. It appears to be a small and restrictive place, but you occasionally see some of the inhabitants looking down from the walls, and they seem much happier and healthier than you and your fellow soldiers.
One day as you keep watch near the gate, you begin to converse with one of the city dwellers standing on one of the lower sections of the wall. "What is it like in this city?" you ask, and he begins to tell you. He says that there are no tents, and everything is permanent within the fortress. Like the gates and the walls, nothing wears out. It is not confining at all, as it appears to be from the outside. The person tells you, "When I left the army and came here, I expected it to be cramped and crowded and boring, but it is unimaginably vast and fascinating." This man to whom he spoke had abandoned the army? And they had welcomed him and trusted him to defend the walls? How was that possible?
"You left, and they accepted you?"
"Yes, I am a full citizen and adopted into the family of the king. The ruler of the fortress is beyond wise, and he shares that wisdom with all who abandon the siege. His generosity toward those who once opposed him but now have changed their allegiance is impossible to comprehend. He holds no grudges and exacts no cost for past opposition to him, but instead, enriches all who come to him and gives each one of them a place within his magnificent citadel."
In the following days, discontentment creeps over you. The emptiness and pointlessness of this fight become more and more apparent. Finally, you come to realize you are not happy, and you have chosen the wrong side in which to live and die. You walk toward the wicket gate. You knock, and the door opens to you. You step inside.
Entering in
The entranceway is tight, and it is impossible to make progress with the weapons that you carry. You can go back outside. Your former comrades probably haven't noticed you are missing, but even if they did, you could say you were scouting for a way in. But you decide to move forward – the sword, shield, belt, and mail shirt are left on the floor. Even with those encumbrances gone, the going is difficult. You struggle forward, but soon you find it impossible to move further. The tunnel clings to the very clothes you wear. All that remains from the outside must be left here in the narrow passageway, or you will have to turn back. The decision is made to go on, no matter the embarrassment. You do what is necessary to proceed; you strip off your clothes and then discover that moving forward is much easier.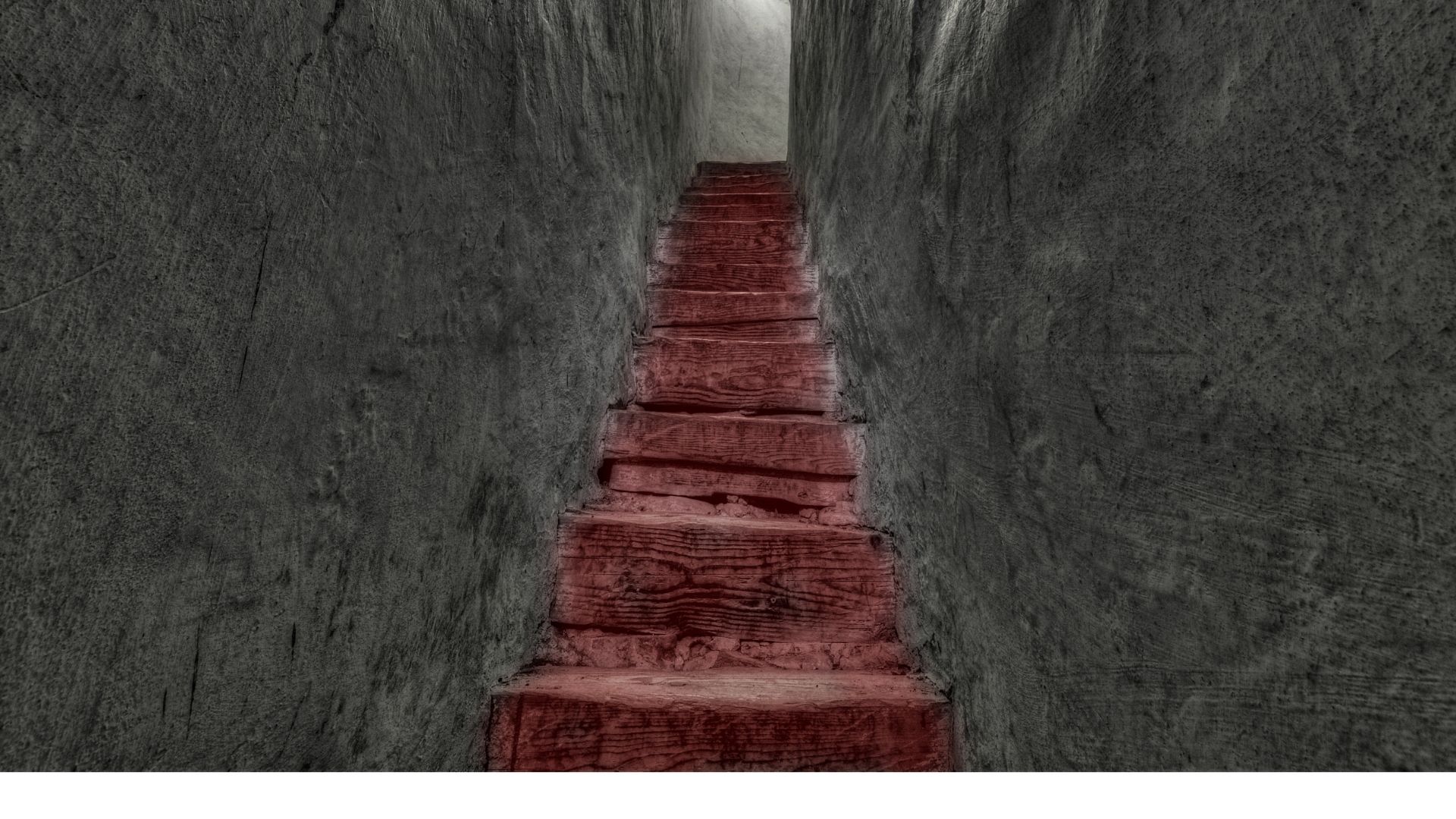 It strikes you that this is very much like a birth process, and you are traveling down a passageway toward a new and never-before-experienced life. All that was comfortable and familiar is behind, and the unknown lies ahead. You continue for some time and emerge from the tunnel into a brightly lit room. There are new garments lying nearby that fit you perfectly. You quickly dress in these new clothes.
Within your clenched fist, you hold some money and gold jewelry set with precious stones that you had salvaged from your pockets before shedding your clothing in the tunnel. You suddenly realize that this which was of great significance outside of the walls has no value within. You own absolutely nothing.
Spiritually impoverished
The first beatitude that Jesus spoke in this sermon on the mountainside was. "Blessed are the poor in spirit, for theirs is the kingdom of heaven." "Blessed" is the translation of a Greek word makarioi, a term that uses the prefix "mak" (from which we get our prefix in English: "macro") meaning to enlarge or lengthen, thereby speaking of circumstances in which a person will increase their happiness. "Poor" is the translation of a word used to refer to beggars, and it describes those who are obviously destitute, poverty-stricken, and unable to enrich themselves.
This is the state of affairs in which we find ourselves when we enter into Christ's kingdom. We are impoverished. Whether we are materially poor as church mice or the wealthiest person on the face of the earth – we are spiritually impoverished as we enter this spiritual kingdom. Our currency from our former land is like Confederate dollars: it has no value. It is similar to the cartoon I once saw in which a drunk is standing before a judge and says, "If it pleases the court, I have a 'Get out of jail free' card." In coming to Christ, we have left the temporary board game that people play on this earth and have entered eternal reality. We recognize that all those things into which we poured our attention and energies are of little or no value. Our spirituality, which we may have previously considered quite strong, is revealed in the pure white light of Christ to be but a pitiful flicker.
From the human perspective, what does "spirit" mean, and of what does it consist? The spiritual is not detectable by our five senses; it is eternal, in contrast to the temporary physical world that we see, hear, taste, touch, and smell (2 Corinthians 4:18). Everything that exists relies upon the unseen spiritual powers for continuation (Colossians 1:17; Hebrews 1:3). There are both good and evil in the spirit world. Evil is temporary and limited in influence – it will one day end. Goodness is infinite in its expanse and eternal. We are spiritual beings, created in the image of God (Genesis 1:26-27). We are people who are also partly physical (Genesis 2:7). We live in that temporary part of the spiritual world (Satan, the prince of this world – John 14: 30).
Jewish and Christian spirituality goes beyond the physical. It is the idea that beyond the finite black bubble of space is the infinite permanent world, and filling that eternal place is an eternal God who is not only outside of the physical but permeates and sustains (for now) the physical world we reside within. He is outside time and space and is the one who ordered and fine-tuned the laws of the physical world. Paul spoke of this powerful God (unknown to the Athenians and their philosophers) with these words:
The God who made the world and everything in it is the Lord of heaven and earth and does not live in temples built by human hands. And he is not served by human hands, as if he needed anything. Rather, he himself gives everyone life and breath and everything else. From one man he made all the nations, that they should inhabit the whole earth; and he marked out their appointed times in history and the boundaries of their lands. God did this so that they would seek him and perhaps reach out for him and find him, though he is not far from any one of us. "For in him we live and move and have our being."

Acts 17:24-28
We can observe the physical because we are physical beings. We can theorize about the metaphysical because we have minds that think abstractly. We even can make some guesses about the spiritual world because we each possess a spiritual likeness to God. Still, we are very limited in this last area.
God fills the spiritual realm. God is, by nature, good. He exercises kindness, justice, and righteousness upon the earth, taking pleasure in these (Jeremiah 9:24). Because we were made spiritual, we can understand these values to some extent, though our execution is quite flawed. Though we may figure out many things on our own, we need someone to teach us what God means when he speaks of goodness. He knows. We don't. The poor in spirit person recognizes that fact.
Other than goodness, there are many other essential spiritual ideas – faith, hope, peace, mercy, purity, meekness, patience, godliness, truth, and a love that seeks the absolute best for self and others. We can conceptualize these, to some extent, but cannot fully grasp them, but neither can anyone else around us. Those disciples mixed among the crowd at the Sea of Galilee, who had committed to follow Jesus, understood very little about the kingdom of God, but they did realize that the answers would not be discovered in the valley with the crowds. The answer was up on the mountainside in their rabbi, who was waiting to teach them.
Was Jesus acknowledging their "I don't know, but I want to know" attitude, as they sat down at his feet when he began by saying: "Blessed are the poor in spirit, for theirs is the kingdom of God," "Blessed are those who know they do not know, for of such, the kingdom of God consists"? Did he look into each of their faces, letting them know he received each of them as his students and was very pleased with their decision? Did they tear up at this, knowing they had done nothing but leave the crowds and acknowledge the obvious? Is that when he told them, "Blessed are those who mourn for they will be comforted"?
Humble
Poorness of spirit is a vivid description that describes what God means when he uses the word "humble." It involves more than modesty or lacking arrogance. It recognizes where the genuine values lie and that we lack those values entirely. In the late second century, Clement of Alexandria said that there were two kinds of poverty: a poverty of material goods and a poverty of the spiritual. "How wretched indeed, then, are the other type of poor – those having no part in God and less in human property. These are the ones who have not tasted the righteousness of God." A person poor in material things seeks to gain those material things. The man or woman who is poor in spirit, likewise, aims to alleviate that poverty. Jesus' disciples came to him on that hillside because they were poor, and they knew he was the only source of spiritual richness.
On another occasion, in the nearby city of Capernaum, Jesus watched as disciples abandoned him because of the "hard" words he had just spoken. His question for his remaining disciples was, "You do not want to leave also, do you?" Peter said: "Lord, to whom shall we go? You have the words of eternal life. We believe and know that you are the Holy One of God" (John 6:68-69). There is only one place to go to take care of this spiritual poverty and it is in Christ.
Jesus begins the beatitudes promising blessedness upon those who have this recognition of their deep poverty of spirit. This is the foundation for all spiritual progress. A person cannot even have faith in God unless he or she is humble enough to entrust the self to the one who knows what is best in life.
People have many misconceptions about humility. It does not mean despising or degrading one's self. It is not mistreating self. It is simply being realistic about who we are – good and evil. In truth, the poor in spirit person cares very much about self, because he or she is involved in getting that which will bring richness.
I was conducting a workshop several years ago on the subject of "Wounded by Religion." I live in a city with many churches and three Christian universities, and in such a setting, a lot of religious wounding occurs. I was speaking about ways to heal those religious wounds in church members, and there were church leaders there, along with therapists. We discussed humility, and during the next break, a Catholic priest came up to me. "When I was in seminary, we weren't taught this view of humility; we were taught 'worm theology' – how terrible and worthless we are."
We are not worms. We are of great value, not because of our looks, wisdom, social status, or physical possessions we have acquired, but because of that eternal and invisible part of us, which is so easily overlooked and neglected by materially focused humans. When we come to Christ, what matters most is the spiritual part of us. Humble people recognize that fact and begin changing the emphasis in their lives. Still, the proud (much like the Pharisees and Sadducees of Jesus' day) justify the direction their lives are already headed while continuing to neglect their languishing spirits. Without the Father of spirits (Hebrews 12:9), our hearts are weak and dying for the lack of spiritual food. We might compare it to a baby, yet unborn and not yet viable outside the womb. Jesus told Nicodemus in John 3:5-6:
I tell you the truth; no one can enter the kingdom of God unless he is born of water and the Spirit. Flesh gives birth to flesh, but the Spirit gives birth to spirit. You should not be surprised at my saying. You must be born again.
Nicodemus could not be born again until he recognized that there was a part of him that had never been born in the first place.
When we have devoted our lives to the earth's values for years and years, it is no easy task to shed those principles and embrace a new set of standards. And yet, that is what Christ expects of all who commit to following him. In his letter to the Philippians, Paul described the experience of making that extreme transition from physical values to spiritual ones:
If anyone else thinks he has reasons to put confidence in the flesh, I have more: circumcised on the eighth day, of the people of Israel, of the tribe of Benjamin, a Hebrew of Hebrews; in regard to the law, a Pharisee; as for zeal, persecuting the Church; as for legalistic righteousness, faultless.

But whatever was to my profit, I now consider loss for the sake of Christ. What is more, I consider everything a loss compared to the surpassing greatness of knowing Christ Jesus my Lord, for whose sake I have lost all things. I consider them rubbish, that I may gain Christ and be found in him, not having a righteousness of my own that comes from the law, but that which is through faith in Christ–the righteousness that comes from God and is by faith.

Philippians 3:4b-9
He had valued the religious more than the spiritual. His former impeccable religious credentials couldn't compare with what he had now gained and was gaining in Christ. Years earlier, when Paul was a persecutor of the Church, he was confronted by Jesus on the highway to Damascus. He was traveling to Syria with orders to arrest followers of the rabbi from Nazareth. Paul was zealous for God, but he discovered, after he met Jesus, that his mission opposed the very God he sought to serve. He had believed himself spiritually rich when he left Jerusalem, but by the time he entered the gates of Damascus, Paul knew his true poverty.
This spiritual paradigm shift is not just for apostles like Paul but is for everyone who enters the gates into the Kingdom of Christ. There is no multi-tiered system of commitment to the Creator, as some suggest – committed disciples and ordinary Christians. Some may indeed devote themselves full-time as missionaries or be involved in another sort of ministry, but no matter who we are, discipleship to Christ necessitates poorness of spirit. Those who possess this attitude continually recognize their spiritual impoverishment, becoming lifelong learners.
The connection between repentance, faith, and poorness of spirit
Why is "blessed are the poor in spirit" put at the beginning of the Beatitudes? It is foundational. Recognition is the most basic mental function in humans – taking place in the womb. Babies become familiar with their mother's heartbeat, and studies have shown that they can recognize certain types of music and rhythmic patterns while still in the womb. Recognition is something that takes place before we fully understand what it is that we're noticing. We recognize a face or voice before we can "place" who it is. The poorness of our spirits is first realized intuitively before it becomes conscious.
The realization that I am insufficient takes place before anything truly spiritual occurs. I will not turn (repent) from my ways until I see the absolute impotence and failure of my choices and manner of living. Therefore, I have to lose faith in myself before I can put my faith in God.
Have you ever watched the President's press secretary dealing with reporters? I am not speaking of a specific president or a specific press secretary – they all seem to operate in this same way. No matter what has happened or what decisions the President made, the press secretary will favorably justify the actions or change the subject to what he or she wants to discuss.
Most of us have an inner press secretary. The realization that I cannot trust myself and my ways takes longer than it should because my press secretary continues to spin my failures and rationalize my insufficiencies. "Well, it would have worked if not for what this other person did or if not for bad luck or if not for all the interruption or if I had gotten a little more cooperation, etc." As a result, I cannot repent and trust in God until my press secretary finally concludes, "We can't do this, and we need to find someone who can."
Spiritual narcissists
In therapy, the people I dread the most are narcissists. They are focused on themselves, cannot conceive of the idea that there might be something wrong with them, and believe people owe them special attention and favor (psychologists call this a "sense of entitlement"). Rarely do they come into therapy for themselves, but I have encountered them when they are dragging in their spouse, child, boyfriend, or girlfriend to get him or her "straightened out." They are blind to their faults; they see no need to change.
Many who profess Christ are oblivious to their poverty of spirit, seeing no purpose to grow because they view themselves as good enough or better than most. These may not have a psychological diagnosis, but they are the spiritual parallel. Without spiritual humility, there can be no growing faith, no love with all of the heart, soul, mind, and strength, and no increasing focus upon Christ. These people may question the thoughts, emotions, and behaviors of others, but they disregard the one person who is most in need of scrutiny: themselves. They have a very powerful and persistent inner press secretary.
Jesus took the scribes and Pharisees to task, not so much because they were legalists (he told them that they should have tithed mint and cumin without neglecting weightier matters (Matthew 23:23-24), but because they were blind to their own faults (Matthew 7:3-5). They sized up themselves as spiritually mature and looked down on all of the tax collectors and sinners (those readily recognizing their spiritual poverty) who were coming to Christ, seeing them as obviously inferior. In the first of the Beatitudes, Jesus explained that those who would be blessed would be humble people who acknowledged that they knew nothing of the spiritual and came to God to learn. The so-called "riff-raff" and "dogs" did just that—the ones who saw themselves as spiritual billionaires did not and would not.
Theirs is the kingdom of heaven
When we enter into Christ, his kingdom, and his values, we leave a realm in which everything that can be seen, heard, touched, tasted, and smelled will someday (perhaps even today) cease to exist. Even the person who looks back at us from the mirror will eventually be gone (Isaiah 40:6-8). Instead, we come to a spiritual world, a place in which everything is permanent, except for the physical bodies that carry around our spirits. Thus, we are "aliens and strangers" to that former world (1 Peter 2:11) and citizens of Christ's kingdom (Philippians 3:20).
But that is not all. Amazingly, we are readily accepted into the Kingdom of God even though we were formerly the enemy. It is even more impressive that we become full-fledged citizens without any waiting period or probation. Still, the acceptance goes further than that. Jesus says of those who realize their spiritual poverty: "theirs is the kingdom of heaven." We belong to this kingdom, and it belongs to us. We are heirs. Christ is the inheritor of all things, says Hebrews 1:2, and we are co-inheritors with him (Romans 8:17).
Without the foundational step of a realistic, humble view of our spiritual condition, we cannot grow to be like Jesus. Pride transforms even kindness, justice, and righteousness (Jeremiah 9:23-24) into worldly actions performed to be seen by men (Matthew 6:1-18). God desires every word we speak and every deed we carry out to be done with a humble state of mind. This is the way of Christ and the example, which he set for us.
Your attitude should be the same as that of Christ Jesus:

Who being in very nature God, did not consider equality with God something to be grasped, but made himself nothing, taking the very nature of a servant, being made in human likeness. And being found in appearance as a man, he humbled himself and became obedient to death, even death on a cross.

Philippians 2:5-8
We must continue to be poor in spirit
Flannery O'Connor, the novelist and short story author, gave the following advice to a young man struggling with his faith:
Learn what you can, but cultivate Christian skepticism. It will keep you free – not to do anything you please, but free to be formed by something larger than your own intellect or the intellects of those around you.
It is essential to be skeptical about crucial things. A skeptical person asks, considers, and tests what people tell him or her. Just because religious groups or individuals claim authority does not automatically mean they have it. The skeptic knows sincerity is not proof of truth. So, question what follows. What I am about to write makes sense to me and might be helpful to consider, but I am well aware that it may be stretching the definition of "poor in spirit" by quite a bit. So I'll present it as a fact but realize it is conjecture.
Poorness of spirit can speak of the quality or the quantity of the spiritual life within us. The angels and other spiritual powers, along with humanity in our resurrected form, will always be poor in spirit, quantitatively. Why did Satan fall? I assume that it was partly because he did not realize his extreme limits compared to an infinite God. Why else would a person be so presumptuous as to rebel against God? It is the same reason that humans fall: we fail to remember our size. We forget how small we are, how limited our power, and how little we know.
In heaven, though we live forever, we will always be finite in size and capacity. No matter how good we become, we have limits/boundaries, which the infinite Creator does not. Jesus, when he became a man, limited himself for a time. Philippians 2:5-8 describes his emptying of himself to become a man. The quality and purity of his spirit was and is the same as God's, but he submitted to the Father. He is above every spiritual and earthly authority: "For in Christ all the fullness of the Deity lives in bodily form, and you have been given fullness in Christ, who is the head over every power and authority" (Colossians 2:9-10). But he had a body like us – he was limited, just as we are. His quality did not change, but his quantity seems to have been altered. He didn't need to repent from pride and self-will, but he did seek the Father's wisdom in prayer and submitted to his wisdom and will. He did this because of his self-chosen limits. Only the unembodied Creator has perfect perspective and limitless knowledge and control. There is an indication from scripture that at present, Jesus still has boundaries, but that this will not always be the case. Notice what Paul said about Jesus:
For as in Adam all die, so in Christ, all will be made alive. But each in his own turn: Christ, the firstfruits; then, when he comes, those who belong to him. Then the end will come when he hands over the kingdom to God the Father after he has destroyed all dominion, authority, and power. For he must reign until he has put all his enemies under his feet. The last enemy to be destroyed is death. For he "has put everything under his feet." Now when it says that "everything" has been put under him, it is clear that this does not include God himself, who put everything under Christ. When he has done this, then the Son himself will be made subject to him who put everything under him, so that God may be all in all.

1 Corinthians 15:22-28
In our growth in Christ, we never outgrow poorness of spirit. As we learn more of God and his goodness, we will grow in the realization of our smallness and ignorance about what is good. Never will we get to the point where we can tell our Teacher, Counselor, or Father, "I'm good – I can take it from here." Poorness of spirit will never be left behind by those in the kingdom of heaven – we will be strengthened and tempered as we follow Christ.
Father, pride must look so ridiculous on small creatures such as us. You give us everything we have: our bodies, lives, intelligence, talents, and opportunities. You sustain us; you provide all that we need and much of what we want, and we are so irrational that we actually believe that we are independent. We disrespect you and ignore you, and put almost everything before you, and you keep giving, and we ungratefully keep taking.
Please help us to realize our size. Please help us to be realistic about life as disciples of Christ. Please guide us that we might be poor in spirit so that we might be a part of your Son's kingdom. It is in his name that we pray.