Sorry Enough to Change: Those who mourn
B
lessed are those who mourn, grieve and wail, for they will be comforted. These actions are usually associated with losing a loved one or a tragedy occurring in one's life. So is Jesus telling his disciples that those who suffer such things will be most fortunate and well off in the future? Many hold that view of this beatitude, but what if this beatitude is connected to the previous one. "Blessed are the poor in spirit, for the kingdom of heaven is theirs. What follows when people realize that they are in absolute spiritual poverty? Sometimes, epiphany leads to nothing, but the best outcome is when the person turns from a failed and empty life toward the one who fills those who come to him.
The grief that is comforted in Christ is sorrow over our sins. Though we sin against people here on earth, the one that we wrong the most is the one who created us. He did not make us to do evil and hurt other people. Instead, he desires us to be good – kindly, just, and righteous.
Three ways of looking at sin
Jeremiah 9:23-24 tells us that God exercises and delights in kindness, justice, and righteousness. People tend to emphasize two of these three virtues to the neglect of the third. This significantly impacts their views of God, worship, and theology. Therefore, it is not surprising that these three religious perspectives are conflictive in what they emphasize concerning sin.
Justice/Righteousness individuals tend to see all sins (that they view as sins) as equal. Because they have difficulty distinguishing between incidental and weightier matters, they often use most of their energies on less important things and never get around to that which is essential. They are too busy tithing mint, dill, and cumin to attend to justice, mercy, and faithfulness (Matthew 23:23).
Righteousness/Kindness people view sin as falling short of impossible standards. Therefore, they excuse their wrongs and inability to live up to commitments by openly admitting that they are powerless over sin, thus relying upon Christ's grace to deliver them.
Those who take a Kindness/Justice stance, if they do resort to scripture, stress that there is no condemnation in Christ Jesus (Romans 8:1), and that if the Spirit leads us, we are not under law (Galatians 5:18). Their emphasis is on any passage that speaks of the freedom we have as Christians (e.g., 2 Corinthians 3:17). From this perspective, sin is a result of laws and, without the laws, there is no sin. God's acceptance of us, "just the way we are," is greatly emphasized, so that sin (except the most heinous) is immaterial in their eyes. Good people should follow the principles of kindness and fairness because those are the complete definition of righteousness.
These various viewpoints use the same Bible language but attach their meanings to those words. They would all agree that we should avoid sin, but each group defines sin differently.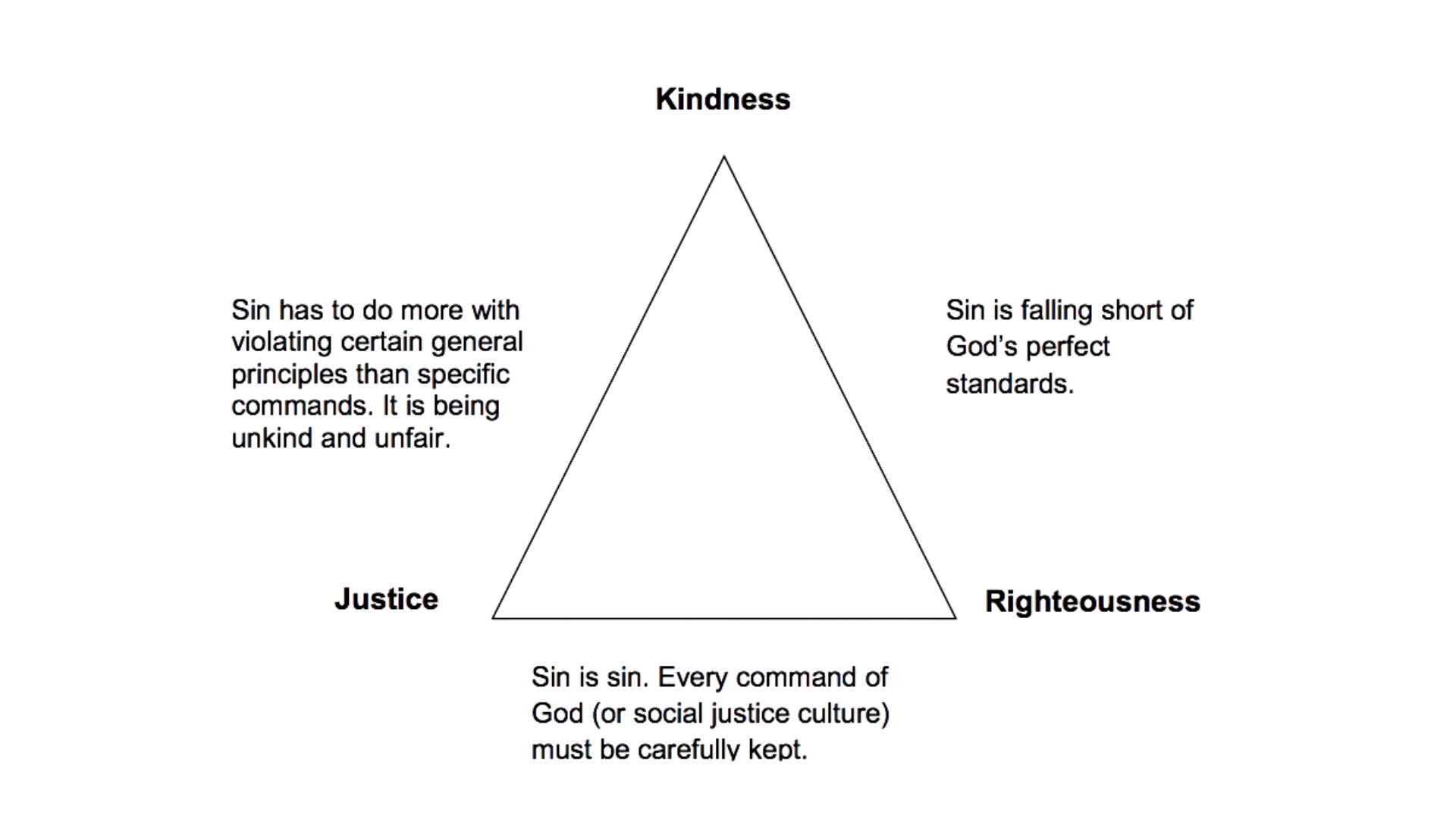 Sin is sin. Every command of God (or social justice culture) must be carefully kept.
Sin is falling short of God's perfect standards.
Sin has to do more with violating certain general principles than specific commands. It is being unkind and unfair.
Answering the Justice/Righteousness view: Are all sins the same to God?
Suppose a woman is married to a brutal abuser, and he comes home in a rage, angry that the children's toys are in the yard. "Where are they?" he demands, intending to hurt them badly. She lies and says that they are at her parents' house when, the truth is, she has hidden them in the basement. He takes his rage out on her.
Strangely, some would say that the sacrificial woman and the cruelly vicious man have both wronged God and are equally displeasing to him. The concept of the equality of sins has become an unquestioned proverb among many who profess Christ. "All sins are the same to God," they say. One of the difficulties with this stance is that there are many contradictory examples in the Bible. God gave laws to Israel that assigned repayment or animal sacrifices for most violations and the death penalty for the most severe offenses. God does see some sins as a great deal more serious than others. In Mark 3:28-29, Jesus said that one sin was preeminent:
I tell you the truth, all the sins and blasphemies of men will be forgiven them. But whoever blasphemes against the Holy Spirit will never be forgiven; he is guilty of an eternal sin.
In the Hebrew scriptures, idolatry was especially abhorrent to the Creator. For example, Manasseh, the son of King Hezekiah, was condemned because he worshiped idols and even sacrificed his sons to the bloodthirsty Canaanite gods. The Lord saw this as the last straw in his tolerance of Judah and said:
I am going to bring such disaster on Jerusalem and Judah that the ears of everyone who hears of it will tingle. I will stretch out over Jerusalem the measuring line used against Samaria and the plumb line used against the house of Ahab. I will wipe out Jerusalem as one wipes a dish, wiping it and turning it upside down. I will forsake the remnant of my inheritance and hand them over to their enemies. They will be looted and plundered by all their foes because they have done evil in my eyes and have provoked me to anger from the day their forefathers came out of Egypt until this day.

2 Kings 21:12-15
God does make distinctions between sins. In the Old Testament, killing another was not considered murder if done unintentionally and not involving hate (Joshua 20: 5). Paul, inspired by the Holy Spirit, indicated that refusing to keep certain commitments was inexcusable when he said that a man who would not provide for his family "has denied the faith and is worse than an unbeliever" (1 Timothy 5:8). All sin is an affront to God, and it should not be made light of, but to lump them all together as equally serious makes it more likely that we will spend our energies straining at gnats and swallowing camels.
Responding to the Righteousness/Kindness view: Hey, nobody's perfect
Sin is viewed nonchalantly by many of us humans – we even joke about sins because they are so common. Everybody sins. There are quite a few immoralities that don't shock us at all because we have thoroughly acclimated to them. Romans 3:23 states, "For all have sinned and fall short of the glory of God." Paul did not give this as an excuse to sin; he stated that whether Jew or Gentile, the Church members there in Rome had never lived up to God's standards and must depend on Divine grace. We are guilty, and Jesus had to satisfy the demands of justice for each of us – he had to suffer punishment so we would be spared from the fate we deserved. The Righteousness/Kindness approach defines sin as "a falling short of the glory of God" (which is part of the definition, but not the whole meaning). To them, it is so universal ("all have sinned") and so beyond our ability to attain (who can measure up to the glory of God, other than God) that there is no shame and no responsibility.
They see God's expectations as impossibly high for small beings like ourselves. The Creator sets up the target far out of the range of any human being's abilities, and naturally, our arrows fall pitifully short. With this view, God is a cosmic perfectionist, and only his favorite Son could please him. This perspective gives humanity a ready-made excuse for failure and a lack of initiative (Why should weak and powerless people strive for the unattainable?). "We are here to praise God and tell him how good and awesome he is, and he is here to forgive us."
And yet, when we look at the Bible, we find that God expects more than acknowledgment of how great he is – he expects transformative change:
And we, who with unveiled faces all reflect the Lord's glory, are being transformed into his likeness with ever-increasing glory, which comes from the Lord, who is the Spirit

2 Corinthians 3:18

Since, then, you have been raised with Christ, set your hearts on things above, where Christ is seated at the right hand of God. Set your minds on things above, not on earthly things. For you died, and your life is now hidden with Christ in God. When Christ, who is your life, appears, then you also will appear with him in glory.

Put to death, therefore, whatever belongs to your earthly nature: sexual immorality, impurity, lust, evil desires and greed, which is idolatry. Because of these, the wrath of God is coming. You used to walk in these ways, in the life you once lived. But now you must rid yourselves of all such things as these: anger, rage, malice, slander, and filthy language from your lips. Do not lie to each other, since you have taken off your old self with its practices and have put on the new self, which is being renewed in knowledge in the image of its Creator.


Colossians 3:1-10
We have God's help in this transformation into good, but we have to participate with him (the Greek word koinonia, which means fellowship, communion, and intimate participation with another):
His divine power has given us everything we need for life and godliness through our knowledge of him who called us by his own glory and goodness. Through these he has given us his very great and precious promises, so that through them you may participate in the divine nature and escape the corruption in the world caused by evil desires.

2 Peter 1:3-4
The problem with the Kindness/Justice view: Sin evolving
Kindness/Justice people see sin as an ever-changing concept. Community and societal standards determine what is right and wrong. Rightness has to do with appropriateness and functionality. Sin is a dysfunctional and unmanageable life. People's needs and wants are considered more relevant than God's commands. Not surprisingly, the "god of one's understanding" is in complete agreement with this view.
There is truth to the assertion that standards change over time. For example, by Victorian values, almost everyone today would be considered indecent and immodest when it comes to clothing. But, the Kindness/Justice view takes differences in what is deemed modest or immodest. It then generalizes it to believe and teach that most of God's commands are open to reinterpretation and can be altered as men see the need.
The most serious problem with this perspective is that there is no benchmark for truth and goodness. Modern society could not function if there were no standards of measurement or required levels of quality. Do you want your home built to code, or is it okay to set those studs three feet apart? Are you willing to use bridges that have been constructed without standards – steel, concrete, and bolts that look okay but haven't been tested? We don't want lead in our children's toys; could it be that God does not want just any kind of attitude entering into his eternal home?
This perspective of sin makes humanity the decider of what is good and evil. By this view, the Bible is the primitive opinions of ancient people, written down and now mindlessly applied by out-of-touch people to modern times. The Bible is therefore irrelevant when it comes to defining how we should live today.
However, if there is a God, and we aspire to follow him, then his knowledge of what is and is not good for us will prove to be much better than ours. The truth is that it will be perfectly correct. If we are poor in spirit, then we are willing to admit how limited our perspective is and submit (no matter how much it conflicts with society's constantly changing values or lack of values).
Different definitions, different reactions
Jesus said, "Blessed are those who mourn. . ." We do not feel deep sorrow over sins unless we view our wrongs as the Father, Jesus, and the Spirit see them.
Justice/ Righteousness people do not mourn – they worry and obsess over their sins.
The Righteousness/Kindness perspective does not motivate sorrow for sins but excuse-making and rationalization.
Kindness/Justice individuals will not find a passage where Jesus said, "Blessed are those who dismiss the majority of sins as immaterial."
So, if none of these fit God's perspective of wrongdoings in the world, then how are we to look at sin?
Sin against God
Every sin, whether minor or great, is a sin against God. David said:
For I know my transgressions, and my sin is always before me. Against you, you only, have I sinned and done what is evil in your sight, so that you are proved right when you speak and justified when you judge.

Psalm 51:3-4
Previous to penning these words, Nathan the prophet confronted David for his adultery with Bathsheba and the murder of her husband. Was it God alone that David had wronged? Had he not sinned against his wives, his soldiers, and the citizens of Israel? That was unquestionably true; however, the king realized that his greatest sin was against the Creator far above all the others he had wronged.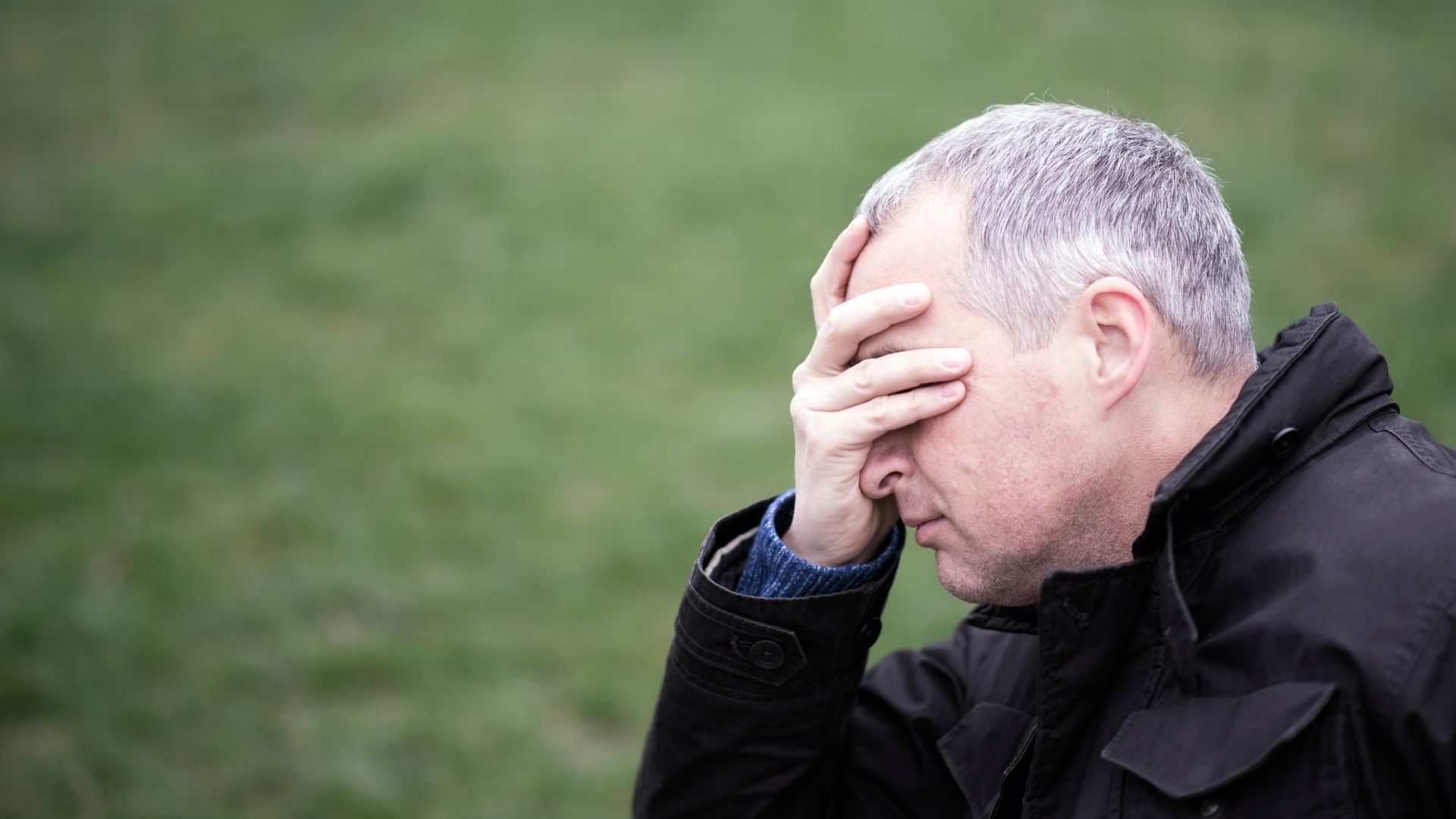 Why is a sin against another human sin against God? Part of the answer lies in the fact that Christ and the Father are very closely involved with every person, whether friends or foes. In speaking of the superiority of Jesus over all others, Paul wrote in Colossians 1:17, "He is before all things, and in him, all things hold together." Christ created all things (Colossians 1:16 and John 1:3), and he maintains everything that he has made (Colossians 1:17 and Hebrews 1:3). Thus, the Godhead sustains the existence of every one of us.
In Paul's sermon in the Athenian marketplace, he quoted a poet of Crete by the name of Epimenides, asserting this truth, "For in him we live and move and have our very being" (Acts 17:28). God is not in some distant land and uninvolved in our lives – he is around us and through us. He fills the atmosphere and environment in which we exist. Without the Father's active involvement, we and all who surround us would cease to cohere. "In him, all things hold together." The computer, tablet, or phone before you, your chair, the ground on which you stand, and every atom that makes up every molecule of every cell of your body would fly apart without God's constant involvement. He sustains us all.
When I sin, I do so with my Creator right there with me.
He holds me together by the power of his word; he gives me the life I live, but that gracious gift was never intended for evil. That is my choice, going against his will for me.
When I wrong another or violate one of God's commands, at that moment, I show by my actions that I do not care about God's will and his constant attention to me.
When I sin against another, I am sinning against one whom God is actively loving and sustaining. I am irreverently ignoring his presence in and around me as I use the life given to me to harm another maintained by God.
My sin is not merely a violation of God's commandments or his will, but it is in direct opposition to his actions and nature. Therefore, it is an exceedingly personal sin against God.
Suppose I decide to attack another person physically. God gives me life, strength, and free will. He does the same for the person that I intend to hurt. I use his gifts for purposes that go against his desires for both me and my target. He holds me together as I say and do those horrible things, and at the exact moment, he is holding together the person I am attacking. Thus, I am doubly brutalizing God. I am using his life-giving graciousness toward me for evil purposes, and I am showing no respect and consideration for the other human he sustains. God exercises kindness, justice, and righteousness. I use his gifts to exercise the exact opposite.
There is no difference when I treat others rudely. God gave me my mind, tongue, vocal cords, and even each breath that continues my life. And what do I do with these gracious gifts? I cuss out someone, make some snarky remark, or treat another as less important than me. God has given me autonomy, strength, voice, and intelligence, and what do I do with these gifts? Squander them and use them to hurt other people that he loves and treasures.
An incomprehensible sacrifice
Jesus dreaded going to the cross: "My soul is overwhelmed with sorrow to the point of death" (Mark 14:34). However, that which he would suffer was only to a minor extent physical. Instead, it was overwhelmingly a spiritual suffering. So, what was occurring within the spiritual realm as his body hung on that cross?
We know that the Father had to turn his back on him because the Son had become sin for us (Matthew 27:46; 2 Corinthians 5:21).
For the first time ever, the Godhead divided. That in itself was enough for Jesus to dread, but that was not all.
God had to come in contact with sin – not one sin but all of them: the sins of billions of people from the beginning of time until the end, whenever that might be.
Was Jesus' time on the cross an extended period of physical torture in which he symbolically carried the sins of the world in the same way as the scapegoat bore the sins of Israel? Was it even worse than that – did the Son of Man submit himself to a painful and disgusting ritual that was the spiritual equivalent of a six-hour immersion in the cesspool of our wrongs (the perfect, pure God having to touch sin) while he was on the cross? Or was it much more personal than that? While his body was physically suffering for six hours, was Jesus outside of time – was time suspended for him? Did he have to endure thousands upon thousands of agonizing years, experiencing every wrong done by each of us: every murder, lie, infidelity, act of terrorism, incident of sexual abuse, neglect, and rebellion towards God? Could it be that each sin that I commit in the present time (and often take so lightly) lengthens and intensifies Christ's suffering on the cross in the past? It is frightening for me to suppose that the suffering of Jesus might not have been a symbolic and generic act but a very specific and personal one. I fear that the last option is what actually took place.
Blessed are those that mourn
Because of my self-centeredness and my lack of seriousness about grave matters, I have in one way or another injured and caused suffering and death to the one who made me, who loved me and gave himself for me. What is the proper response to this realization? The answer is mournfulness.
The Greek word used in Matthew 5:4, translated as "mourn," means to lament, having a great sorrow that is accompanied by tears. We have wronged God to such a high degree that this kind of extreme mournfulness is the only appropriate response. It is like the prayer in Ezra 9:6:
O my God, I am too ashamed and disgraced to lift my face up to you, my God, because our sins are higher than our heads, and our guilt has reached the heavens.
A few years ago, just before waking, I had a very vivid dream of a massive convention center. I watched as neatly dressed workers carefully stacked great numbers of packages upon rows of tables that filled the enormous room. I was curious about what all this meant, and the thought came to me that all the people represented angels and the packages were my sins with which Christ had to deal. The dream (rather cinematic) concluded with my view changing as though a camera was on a boom moving back to take in all of the room. It revealed thousands of tables filling a place the size of a large aircraft hangar, each table holding hundreds of packages and still more being stacked by the workers. I awoke overwhelmed by what I had done to God.
When we come to see reality, when we pull away from the worldly justifications and watering down of our sins and come to see things in their spiritual reality, it is truly devastating. The tender heart is remorseful because it recognizes that it has horribly wronged the one who loved it best. Those who mourn are blessed because they are conscious of their actual condition and can choose to turn to God to receive the promised comfort.
Repentance
Repentance is about changing direction and changing the mind. There is no motivation for someone to change unless there is recognition that their path and thinking are flawed. But many come to that realization and keep living as before. Deep, sincere grief and remorse over past failures provide the needed impetus to live differently.
People generally go through life self-satisfied. It is easy to compare ourselves favorably to others. We see ourselves as better, or, at least, no worse than others. But when we encounter Christ, our previous way of looking at things is changed. It does not matter how others live. We have a new standard. Those who mourn and grieve over their wrong paths and ways of thinking have already realized they don't know the right road to follow or how they should think. This is why poorness of spirit precedes mournfulness.
I grew up hearing that we believe, and then we repent. So I was surprised to discover that in every instance in the New Testament where belief and repentance are used together, repentance always precedes faith in the sentence.
For John came to you to show you the way of righteousness, and you did not believe him, but the tax collectors and the prostitutes did. And even after you saw this, you did not repent and believe him.

Matthew 21:32

Now, after John was taken into custody, Jesus came into Galilee, preaching the gospel of God and saying, "The time is fulfilled, and the kingdom of God [c]is at hand; repent and believe in the gospel."

Mark 1:14,15

Therefore leaving the elementary teaching about the Christ, let us press on to maturity, not laying again a foundation of repentance from dead works and of faith toward God, of instruction about washings and laying on of hands, and about the resurrection of the dead and eternal judgment.

Hebrews 6:1,2
To fully trust in something or someone new, a person has to lose faith in what they originally put their trust. That is why repentance precedes belief in the teaching of John, Jesus, and the early Church. Trust is a very practical thing – we trust what works for us and mistrust what doesn't (we stop directing our energies and focus toward ideas, things, and relationships that have proven unreliable). At least, that is the way it should work. In truth, people often continue to have faith in things and individuals who have continually failed them (this is usually motivated by loyalty to family, culture, or religion).
In the first two beatitudes, Jesus sets the groundwork for faith. First, we must see our poverty of spirit, realizing our's and the world's ways do not work and will never do so. We then grieve that we have turned our backs on the one who has the answer and has patiently waited for us to see the truth. We are prodigals who return unworthy to be called the Father's children, and he amazingly accepts us. There is nothing new about this. Even in the Hebrew scriptures, eight centuries before Jesus, this was how God treated his people:
"Even now," declares the Lord, "return to me with all your heart, with fasting weeping and mourning." Rend your heart and not your garments. Return to the Lord your God, for he is gracious and compassionate.

Joel 2:12-13
There is a right way to grieve and a wrong one. The mournfulness about which Jesus spoke produces a positive response.
Even if I caused you sorrow by my letter, I do not regret it. Though I did regret itI see that my letter hurt you, but only for a little while yet now I am happy, not because you were made sorry, but because your sorrow led you to repentance. For you became sorrowful as God intended and so were not harmed in any way by us. Godly sorrow brings repentance that leads to salvation and leaves no regret, but worldly sorrow brings death.

2 Corinthians 7:8-10
It was worldly sorrow that brought Judas to end his life in hopelessness (Matthew 27:3-10). However, godly sorrow fostered a deep mournfulness in Peter (Matthew 26:69-75) and resulted in acceptance by his Savior (John 21:15-19).
There is an initial repentance that brings us to abandon an unworkable life. We begin to follow Jesus as the crowds did. We like the idea of him, and we enjoy the message he gives. But then his living, light-filled word gets inside of us. It illuminates the hidden ugliness and poverty. Here is the decision point. Either we choose to run from the brightness that reveals the truth about us, or we follow weeping, aware of our spiritual inadequacies and how we have aggrieved and mistreated our Creator.
How is life working for you
Sorrowful repentance is much more than an apology to God. It springs from seeing sin as God sees it. A self-satisfied person sees no reason to mourn over a misspent life. Those who followed John's "Repent for the Kingdom of heaven has come near, and Jesus' proclamation "Repent and believe the good news" were more likely to come from the ranks of the common people and sinners." The call to repentance was in part the question: "Is your present life working out for you?"
A tax collector for the Romans might have answered: "Not too well. Yes, I have a good bit of money, and I have the power to torment and intimidate people, but I'm despised by my own family and my fellow Jews. I don't particularly like my so-called friends, but my choices are so limited. My life is not working very well for me, but what can I do?"
A prostitute might respond, "I feel trapped, hopeless, and humiliated. I put on a defiant face and pretend I don't care, but it's a lie. Nobody's skin is that thick! No matter how I pretend, I can't ignore the nasty words and haughty looks of disgust from society. The hardest, though, are the faces of pity – that hurts the most. I keep myself drunk and distracted most of the time, and I can't stand to see myself in the mirror. I'm ashamed of what I have become. I'm scared. When I lose what little looks I have left, I am finished. I try hard not to think about that, but I'm doomed. I have no way out."
But what about the Pharisees, Sadducees, and other highly religious or dedicated Jews like the Essenes and Zealots? A good number of them would have said something like this: "I am doing quite well. Thank you for asking. I live a better life than most, and the good upstanding people in the community respect me. I make my world a better place and teach my children to follow me down this same path. I think that God must be pleased with me because I glorify and respect him with my life. I know the scriptures. I offer the commanded sacrifices, attend the feasts, and give generously to the poor."
Isaiah 55:6-9 tells us:
Seek the Lord while he may be found;
call on him while he is near.
Let the wicked forsake their ways
and the unrighteous their thoughts.
Let them turn to the Lord, and he will have mercy on them,
and to our God, for he will freely pardon.
"For my thoughts are not your thoughts,
neither are your ways my ways,"
declares the Lord.
As the heavens are higher than the earth,
so are my ways higher than your ways
and my thoughts than your thoughts.
Whether we see ourselves as respectable compared to others or feel we have ruined our lives beyond repair, this life does not work. Some realize that, while most never do. Those who come to God must forsake their lower ways and thoughts before they can embrace God's higher perspectives and paths.
For they shall be comforted
Christ graciously promises that those who mourn will receive comfort. Paul conveyed the same idea in 2 Corinthians after they had changed their hearts:
Praise be to the God and Father of our Lord Jesus Christ, the Father of compassion and the God of all comfort, who comforts us in all our troubles, so that we can comfort those in any trouble with the comfort we ourselves have received from God. For just as the sufferings of Christ flow over into our lives, so also through Christ our comfort overflows. If we are distressed, it is for your comfort and salvation; if we are comforted, it is for your comfort, which produces in you patient endurance of the same sufferings we suffer. And our hope for you is firm, because we know that just as you share in our sufferings, so also you share in our comfort.

2 Corinthians 1:3-7
The comfort that the Godhead gives is overflowing. It's more than a comforting or encouraging pat on the shoulder. It goes beyond a kindly, "There, there," or "Way to go!" It's a comfort in which Christ's followers participate. It is eternal and good and begins right here and never ends.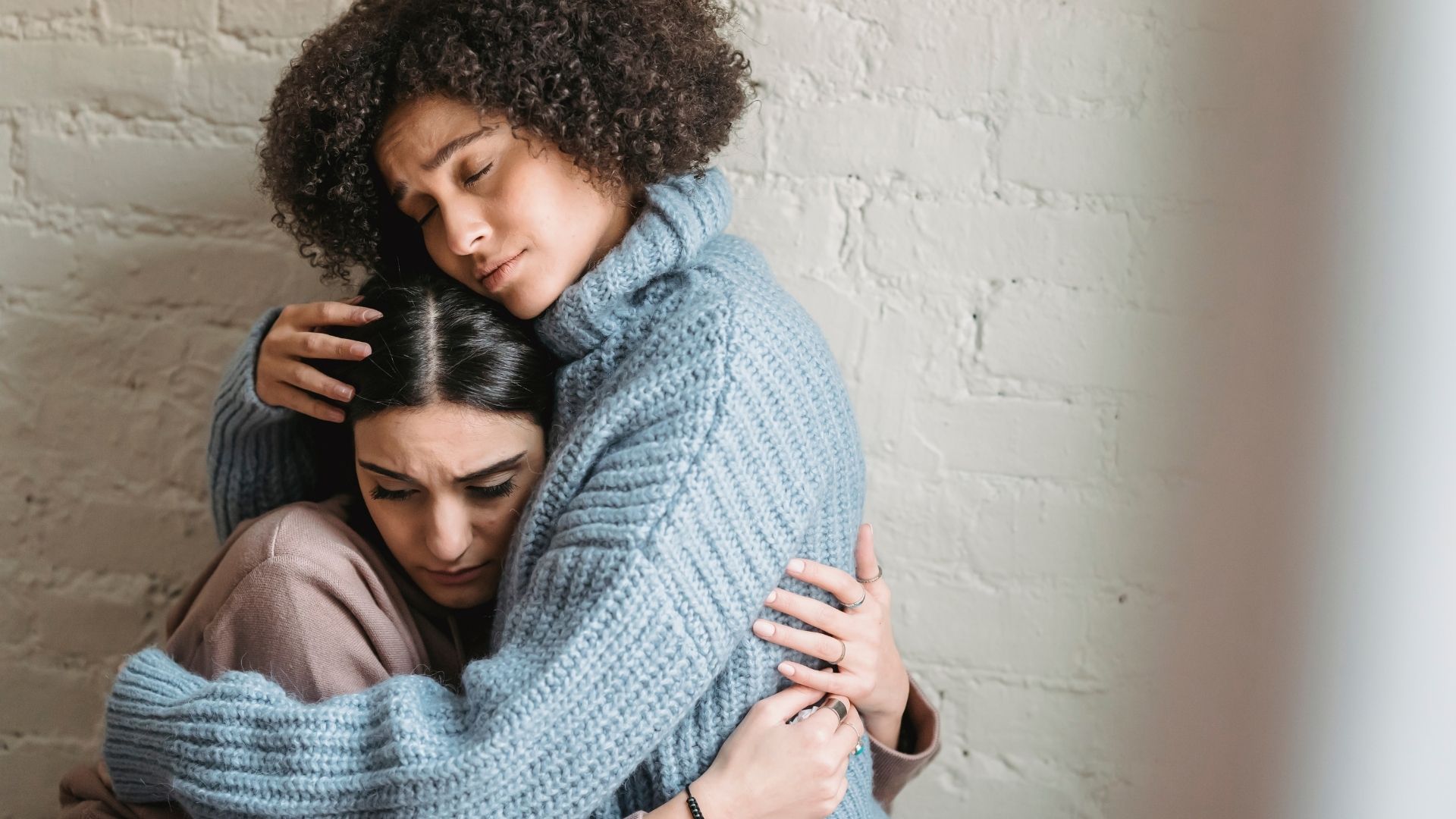 The word used for comfort by Jesus and Paul is paraklesis, meaning "to give consolation, encouragement, and exhort." It is the same base word as the name that Jesus gives the Holy Spirit – the Comforter. Paraklesis is a Greek compound word that combines "para" – beside or next to and "kaleo" – to call. The picture is a beautiful one: Blessed are those who lament with tears, for the Father will say to us, "Come here" and will wrap his arms around us in a warm and accepting embrace. If our mournfulness is because of our prodigal ways or on account of mistreatment for being children of God and followers of his Son, we can know that we have his loving, accepting presence.
Seeing the world as God sees it
There is another aspect of mournfulness that usually emerges further along in the Christian's maturity. It comes about as we grow to view things as the Father and Christ do. It is sorrow over the sinfulness and sadness of the world. As we mature in Christ, becoming more like him, we begin to view the world with similar hatred for sin. At the same time, we develop godly compassion for those mired in the unrighteousness, injustice, and unkindness characterizing life upon the earth. We remember being embraced by the Father when we came to him, and so we look at other prodigals in the same way our Father does (instead of as the bitter, arrogant older brother in Jesus' story).
Mournfulness about the sad state of life upon this earth – deep heartrending sadness concerning the impact of sin on our fellow humans – must be founded upon poorness of spirit. Mournfulness for the world without humility becomes nothing but arrogant superiority, a comparison of one's strengths and triumphs to another's weaknesses and failures. There is nothing noble or godly or good about a condescending pity toward others.
Mournfulness brings us to a different perspective of ourselves and the world around us. Mournfulness leads to action. It motivates us to do something about that, which is so very sad and tragic. In our own lives, we change directions and change our thinking. In the lives of others, we humbly warn and give help. We comfort with the comfort that God has shown us.